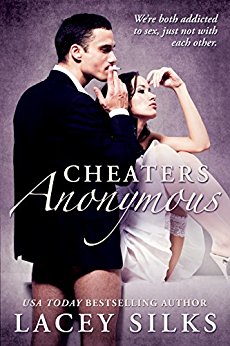 We're both addicted to sex, just not with each other.
About the Book
High school friends – nothing more.
That was our promise to each other, because let's face it, infidelity spreads like a disease.
Everybody cheats.
Period.
And it's easier to remain friends than to hurt the only person you ever cared about – or so we thought.
Note: Suitable for mature audience. While Cheaters Anonymous is a stand alone novel, it is advisable to read its short prequel When Things Go Wrong.
Endorsements
"I loved this book because you learn so much about Scar and the other Wagner brothers. This book will keep you on the edge of your seat. I laughed, swooned, screamed and cried while reading this book."
"Everyone is a cheater or so Scar and Jules believe. Their teenage friendship spans many years . And they meet again, only at the right time or is this all wrong? With all her mental and sexual problems, maybe it would be best to forget it. But Scar seems very sure that they can have a future. Will a strange stalker an end to his plans? Suspense, mystery, and plenty of romance!"
Other Books in "Cheaters Series"
Disclosure of Material Connection: Some of the links in the page above are "affiliate links." This means if you click on the link and purchase the item, I will receive an affiliate commission. I am disclosing this in accordance with the Federal Trade Commission's
16 CFR, Part 255
: "Guides Concerning the Use of Endorsements and Testimonials in Advertising."