Layers Off, the third book in the Layers Trilogy is finally here! It's been a long way coming but I'm so happy with the way the third book tied the stories back to the prequel, Dazzled by Silver, followed by Layers Deep and Layers Peeled.
For those of you who haven't had a chance to dive into the Trilogy yet, here's the reading order:
Dazzled by Silver, Layers Deep, Layers Peeled, Layers Off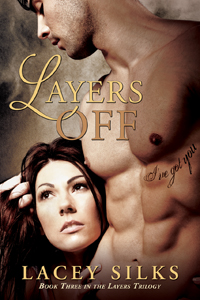 She's gone through hell and back.
He's kept a secret that could send her there again.
And they're trying to find their way to each other.
Rescued by the man she loves, Kendra Knight struggles to recover from a month-long captivity. Memories of her imprisonment as a sex slave haunt her as she battles withdrawal from drug addiction and fights to put a dreadful past behind her. With the help of her new friends, Allie and Laura, Kendra begins to question who she is, and Julian Cross' true intentions for her future.
Julian Cross, owner of a top investigations firm, has kept a secret from the woman he loves since the day he met Kendra. He watched her grow from a teen to a woman and fall in love with his brother Tristan, only to be broken into pieces in the end. Now, he vows to stand by her until she's well, so he can tell her the dismal truth about her past.
Will the truth finally set Kendra free or send her back to the drug-infused pit of hell?
Note: This book is the third book of a Trilogy that is designed to be read in order. It is recommended that the prequel to the series Dazzled by Silver be read before this book as well.
Warning: This title contains erotic situations, and graphic language. Intended for adult audience 18+.
Purchase Links: Amazon, Barnes & Noble, Kobo, Smashwords, ARe, Google Play
iTunes & paperback coming soon.