"16 Amazing Stories You Never Read"

These 16 sizzling and sweet romance stories are all brand new and never-before-released, until now! Grab this anthology today for a jaw-dropping launch-special price of only 99 cents! 
Snowed in? Cuddle up with this anthology of SNOW-inspired romantic comedy stories.
Readers love these tasty tales from their favorite funny authors and swoon-worthy heroes. By popular demand, here's the third issue of LOL! You'll love (and laugh out loud) at these novellas, with satisfying, romantic endings and not a cliffhanger in sight. 

Enjoy 16 brand-new stories from your favorite NYT Bestseller and USA Today Bestseller romance and romantic comedy authors, plus a few fresh new faces.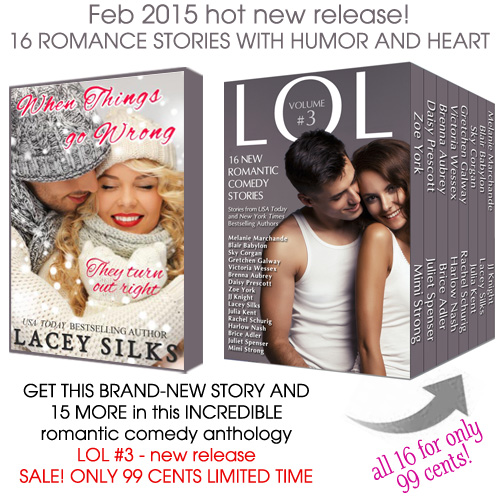 When Things go Wrong
Lazy eyes, scarred lip and brow, muscled and tattooed, Julia's high school best friend, the one who made her heart go pitter-patter, had definitely changed in the past five years she hadn't seen him.

Being stuck with her mom and boyfriend number one hundred at an exclusive ski resort doesn't seem as daunting when Julia runs into the gorgeous and enticing Scar Wagner. And when fate forces the couple much closer than Julia would ever allow a man to be, she can't help but wonder whether it's time to give relationships another try.

After all, when things go wrong, they turn out right.
When Things go Wrong is a short prequel to Cheaters Anonymous which is scheduled to release on April 21st.
LOL#3 Buy links: