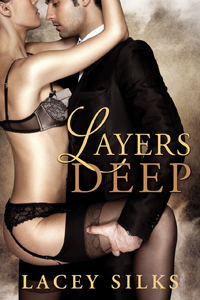 Layers Deep is available a few days early! With 50 reviews on Goodreads and a 4.2 star average rating, here's what some of the reviewers are saying:
"I devoured this book in less than 12 hrs! I thoroughly enjoyed the story and now despite knowing there would be a cliff hanger, still feel bereft at having to wait who knows how long for some closure!" – Keri, Goodreads Reviewer

"Layers Deep is wrought with emotion, intensely sensuous, and so very well written that I could not put it down. This book is very well written. Extremely riveting characters (even the secondary ones) have you turning page by page until the last." – Miranda, Goodreads Reviewer
"There are some books, and they're the rare exception, where within just a few pages you really connect. This was one of those books." – Helen Stothard, Kinky Book Klub.

Layers Deep can be purchased on the following sites. Feel free to share this with your friends.
Amazon
Kobo
Barnes&Noble
Smashwords
iTues and other retailers (coming soon)
If you've received an ARC reviews can be posted to those sites now.
Join me on December 4th (the official launch day) to celebrate Layers Deep with a Facebook party. Gifts, swag, games and fun from 6:00 pm – 10:00 pm EST. Link: Facebook
He needs her to save a friend.
She needs him to plan her revenge.
Their pasts scar them Layers Deep.
Their passion distracts them…
…and distractions can be fatal.
.
Tristan Cross is battling emotional demons from the past. He lives in a world where trust is earned, loyalties are tested, and love is impossible. That is, until he meets Allie Green. She's the only woman who can help him find a kidnapped friend and to top it off, she captivates him. All he has to do now is persuade her to work for Cross Enterprises, his top investigations firm.
Allie Green is a rookie cop seeking revenge and she's willing to sell her soul to get it. With an opportunity to use Tristan Cross's resources Allie calculates her time for payback. As vengeance boils her blood she can't keep her mind off her new boss and Allie finds it difficult to keep her employment professional. With the mouth watering Tristan Cross distracting her, she struggles to prioritize an undercover job she's been assigned and her hunger for revenge.
And when you're ready to give up your life to save someone else, distractions can be fatal.
Note: This book is the first part of a Trilogy that is designed to be read in order. Tristan and Allie will get their happy ending but not until book 2 and 3. This book contains a cliff hanger ending you will not expect. A prequel to the series which can be read alone is Dazzled by Silver.
Warning: This title contains erotic situations, and graphic language. Intended for adult audience 18+.