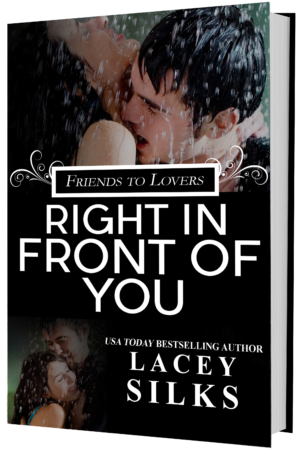 Carter Clark
I had it all figured out: a gorgeous girlfriend, a baby on the way, and a firefighter career I always dreamed of. Life was perfect… until piece by piece, it all fell apart, and I lost my will to live.
Molly Fowler, my best friend from grade school, had saved my life countless times. She helped me heal, physically and emotionally. At my side when I needed her, she guided me to be a better man, while she herself was hurting.
But I was too blind to see what was right in front of me. I was too blind to see that we needed each other. I was too blind to see how deeply she was scarred.
Molly Fowler
Life is peachy, isn't it? Well, maybe to those outside looking in. But not for me. I'd wanted to leave Hope Bay since the moment I understood that my family dynamics were… unique.
I left as soon as I could, but an unknown force kept pulling me back to Hope Bay. A force that would save countless lives. A force by the name of Carter Clark.
But I was too blind to see what was right in front of me. I was too weak to trust in his friendship. Above all, I was too blind to see the danger still waiting for me from a man I'd never thought I'd see again.
Note: Right in Front of You is a standalone novel that follows Carter and Molly's story from Yours and Mine. Contains spoilers to Yours and Mine. Intended for mature audience only.
Curious about Yours and Mine? Visit: https://laceysilks.com/yoursandmine/
Excerpt:
Water dripped down our faces. It trickled between our mouths. The taste of her and rain combined made me hard. Her curls straightened, some of them sticking to her beautiful face, longer ones to her chest. Our clothes were soaked, and it felt as if we were naked. Thunder roared in the distance, but neither of us moved. I sucked on her bottom lip before pushing my tongue deeper into her mouth. The best part of kissing Molly was that she kissed me back. Hard and desperate, her passionate kisses seared against my mouth as she pushed her bosom into my chest, stringing her arms around me, gently scraping any part of my skin she could tantalize with her fingernails.
When I pulled away, I leaned my forehead against hers, heaving.
"I want to make love to you, Molly, so badly. I want to show you what being with a man should be like. I want us to make good memories, ones that will wash away the past, ones that will fill your heart and soul with enough happiness to last you ten lifetimes. I will erase your doubts. I want to love your whole body. I want to love you and protect you for the rest of my life. I do see what's right in front of me, and that's you, Molly. I won't do anything to screw this up. I promise."
"I want you too, Carter. I'm not afraid anymore. I won't let him ruin me any further. I won't let him guide my life." Her hands slid over the water on my arms on a downward path until our fingers intertwined. "I want you as well. Right now."
I looked deep into her eyes, trying to find a hint of doubt there, but I only saw longing. She didn't need to ask me twice. I touched the first button on her shirt and flicked it open. Then the second and third. I followed the column of buttons until her white shirt spread open, revealing her soaked white bra. My dick twitched at the beauty of her pink nipples poking through. Rain formed strings of paths from her neck through the valley between her breasts.
Jesus, was she ever beautiful.
Her pure scent filled my nostrils, and my senses spun into a whirlwind of lust. I reached for the button on her jeans, unfastening them. Then another, and another, until the fabric opened up to the sides, and I could see a matching set of white panties over her triangle.
"Not sure if you noticed, but it's raining, Molly."
"It's perfect," she replied.