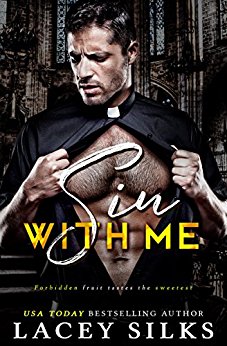 Lies are necessary, mistakes are fatal, and sins unforgivable.
About the Book
He's a priest and I can't stop fantasizing about him in ways no woman should.
The temptation grows and my knees ache as I pray for the attraction to vanish. My words to the higher power seem to evaporate in the hot desert air the same way my safety in this new small town is about to expire.
Wanting him is constant.
Needing him is intoxicating.
Resisting him is impossible. 
After all, forbidden fruit tastes the sweetest, except when it's poisoned. And if my past catches me here, committing the unforgivable sin may not be the only reason I go straight to hell. 
Living a life where lies are necessary, mistakes are fatal, and sins unforgivable, has its limits, even for a former cop on the run.
Note: This forbidden love story will test your limits and is intended for mature audience only. While Sin With Me can be read as a stand-alone novel, the author recommends to read it after reading Run With Me.
Endorsements
"5 SINFUL STARS!!! Strap in and get read for a ride on the hot taboo sexy train. This story is juicy with sexiness, taboo, hot and full of suspense, I could not put it down. Father Cameron is so freaking tempting and Kate finds herself lusting after him, they are both looking for something in their lives. This is one of the best books I have read this year. Lacey Silks grabs the readers and keeps you flipping pages and never wanting the story to end."
Disclosure of Material Connection: Some of the links in the page above are "affiliate links." This means if you click on the link and purchase the item, I will receive an affiliate commission. I am disclosing this in accordance with the Federal Trade Commission's
16 CFR, Part 255
: "Guides Concerning the Use of Endorsements and Testimonials in Advertising."