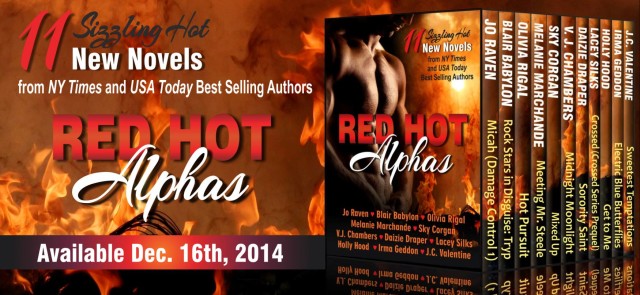 .
On SALE for a LIMITED time! Over 1700 page of brand-new novels from your favourite NYT and USAT bestselling authors!
.
Ready to get HOT? Eleven top-selling authors have banded together to bring you 11 ALL-NEW romantic novels of love, passion, and thrilling suspense.
THIS IS A ONE-CLICK SET!
.
All these novels are all brand new
and exclusive to the Red Hot Alpha Box Set, and they are NOT available anywhere else!
If you see your favorite author in here, then YES, this is a new story that you haven't read yet.
.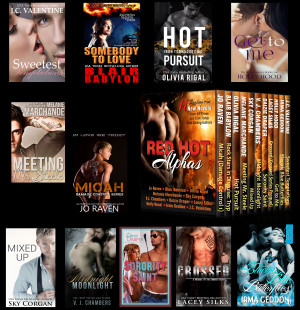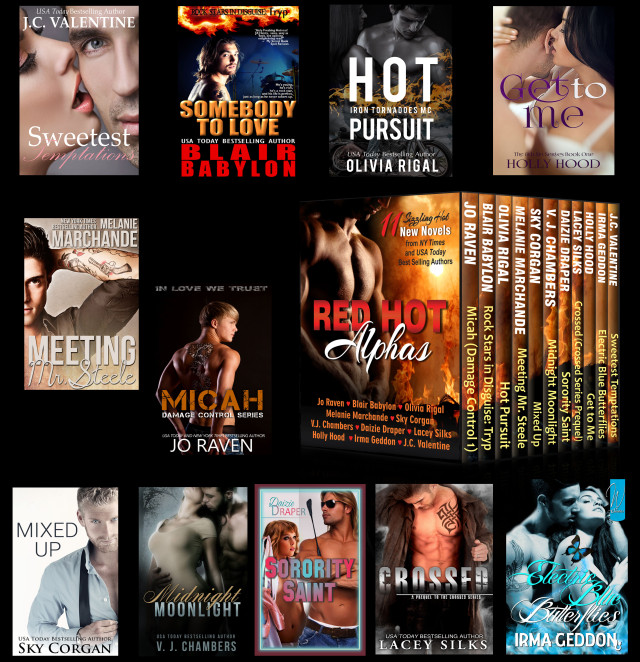 .
.
Micah (Damage Control 1) by Jo Raven
– She saved his life but doesn't know him. He knows her but won't tell her who he is for fear of losing her. Isn't love weird?
Somebody to Love (Rock Stars in Disguise: Tryp) by Blair Babylon – Meet Tryp, the rock star drummer for Killer Valentine. He's young, he's rich, and his life is perfect, just as long as he never sobers up.
Hot Pursuit (An Iron Tornadoes MC Romance) by Olivia Rigal – What could be worst for an undercover cop than embracing the spirit of the MC he has infiltrated? Falling hard for a woman who loves the biker he is supposed to be.
Meeting Mr. Steele by Melanie Marchande – She hired an actor to play her romance author alter ego at public appearances, but she didn't count on him stealing her heart.
Mixed Up by Sky Corgan – When Kira walked up the steps of the Enkidu Industries building for a job interview, she never expected to find her potential new employer completely naked.
Midnight Moonlight by V. J. Chambers – A werewolf twist on "Beauty and the Beast:" Trapped with a wild man. Drawn to his ferocious heat. She will fight to get free and to tame him, to bring back his humanity.
Sorority Saint by Daizie Draper – When a brash musician entices a shy dancer into performing in his sexy jazz video, the heated tension between these polar opposites could ignite lasting passion or completely scorch them both.
Crossed (A Prequel to the Crossed Series) by Lacey Silks – She is looking for the one. He never thought the one existed. But the one thing that connects them can also tear them apart.
Get To Me (8th Sin Series, Book 1) by Holly Hood – Sometimes the past and present can cloud your future.
Electric Blue Butterflies (Will o' the Wisp Series #1) by Irma Geddon – When an arranged marriage between childhood soul mates ends in tragedy, Constance learns to trust that love knows no limit—not even death.
Sweetest Temptations (Blue Collar Series, #1) by J.C. Valentine – A tenacious bakery shop owner has everything she ever wanted, until a hunky firefighter walks through her door.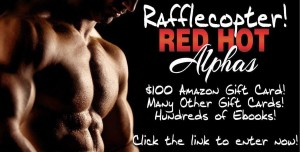 Red Hot Alphas Boxed will be on sale at $0.99 for a LIMITED time only.
.