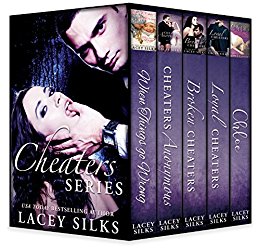 The Cheaters Series consists of 5 books from USA Today Bestselling author. From hot real estate brothers to star-crossed loves, these novels will keep you on the edge of your seat, panting and heart pounding.
About the Book
When Things Go Wrong
Lazy eyes, scarred lip and brow, muscled and tattooed, Julia's high school best friend, the one who made her heart go pitter-patter, had definitely changed in the past five years she hadn't seen him.
Being stuck with her mom and boyfriend number one hundred at an exclusive ski resort doesn't seem as daunting when Julia runs into the gorgeous and enticing Scar Wagner. And when fate forces the couple much closer than Julia would ever allow a man to be, she can't help but wonder whether it's time to give relationships another try.
After all, when things go wrong, they turn out right.
Cheaters Anonymous
We're both addicted to sex, just not with each other.
High school friends – nothing more.
That was our promise to each other, because let's face it, infidelity spreads like a disease.
Everybody cheats.
Period.
And it's easier to remain friends than hurt the only person you ever cared about – or so we thought.
Loyal Cheaters
Some loyalties cannot be broken.
Sacrifices cannot be taken back.
Mistakes cannot be mended.
But love is strong. It can fight.
It can survive the greatest challenges.
It can overcome anything… almost.
Loyal to the wrong people, Zoey Blakely is a survivor who doesn't regret giving her life for those she loves. Desperate to keep her secrets hidden, she struggles to trust the only person who can help her reclaim her life, Ace Wagner.
On path to restoring the Wagner name, Ace is forced to connect the only woman he's ever cared about with the biggest scum on Earth. And he doesn't see that the real threat is closer to Zoey than anyone expected.
One wrong move and their hope of reuniting as more than friends will vanish forever.
Broken Cheaters 
"I took a life and deserved to be punished. Instead, I was rewarded with Axel Wagner." ~ Trish
Running away was supposed to be my punishment. Dating assholes was supposed to absolve my guilt and sins. I can't feel pain anymore and I'm more lost than I was five years ago.
That is until I meet Axel Wagner.
I didn't deserve to live, yet my heart guided me to him. He breathed life back into my lungs and taught me how to make the most of the precious minutes we had on Earth.
I decided to fight back.
I survived for him and struggled to learn how to exist for me. He made living easier. He made me want to overcome my dark past. He pushed me to my limits.
Vengeance lurked in my body.
I reached out for forgiveness and planned my revenge.
We were meant to heal each other. And when we tried, my past came back to haunt me.
Chloe
I met Axel Wagner at my darkest hour.
He saved my life and reached out to me, offering a chance at a new beginning.
I took it and then ruined it all when I let him touch me.
He showed me compassion.
He taught me love.
He gave me hope.
He was no longer just an employer – he became my everything.
Note: All novels intended for mature audience only.
Other Books in "Cheaters Series"
Disclosure of Material Connection: Some of the links in the page above are "affiliate links." This means if you click on the link and purchase the item, I will receive an affiliate commission. I am disclosing this in accordance with the Federal Trade Commission's
16 CFR, Part 255
: "Guides Concerning the Use of Endorsements and Testimonials in Advertising."